So far it seems there are no clear tutorials on how to setup a fully functioning rat, i will add some extra security tips. Please note this is purely for educational purposes and should only be used in legal situations.
What we will need.
A Functioning Rat (DarkComet will be used in this guide)
[Step 1]
First open up your rat and you may get a message about your firewall just press allow.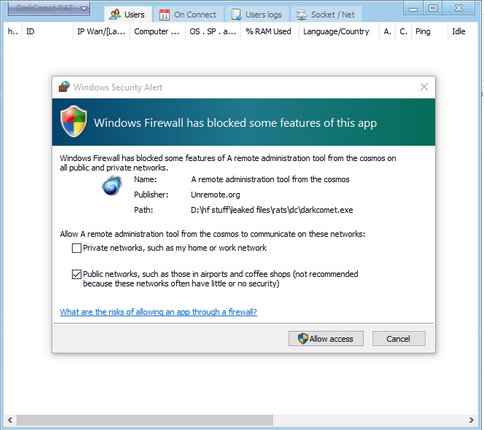 [Step 2]
Before we decide on making the stub there is a few precautions you can take, if you want to be almost untracable we can use a anonymous reverse tcp proxy, this is not neccesary but recommended, we will then use a dns if things change in the future so we dont loose bots.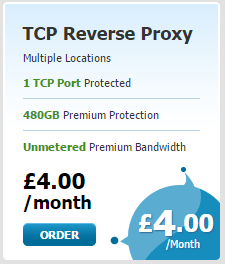 Go ahead and purchase this when you set it up put in your public ip address found in whatymyip.org or ipchicken, and a port you wish to use for your rat.
Eg your public ip including the port for your rat eg 69.32.212.54:200 once you recieve your proxy you will be given a random ip and random port eg 32.432.1.432:432 all this will do is redirect to your ip so it basically acts as a proxy that redirects all communication from 32.432.1.432:432 —>69.32.212.54:200 this will act as our security.
[Step 3]
we will setup a dns this will give us a link like yourname.something.com this will redirect all trafic sent to yourname.something.com (This does not add any protection in any sort of way, this is a extra precatution to make sure you dont loose bots. We can always change the location of where the dns points to meaning if we change proxy or use a vpn or dont use any we wont loose our previous bots. Now we have all this setup this is what the connections look like
Dns –> Proxy —> Your ip . This should be more than enough protection but of course this is not needed to done if you are using this in a legal manor.
[Step 4]
We now need to proceed and make our stub.
Click on the darkcomet rat icon in the top left then locate yourself to server module then to minimalist.
[Step 5]
Copy these settings but replace the ip with the dns we created, and change the port to the port of your rat eg i used 200. Now click on normal at the bottom corner and then save your stub. You are now almost complete with your rat.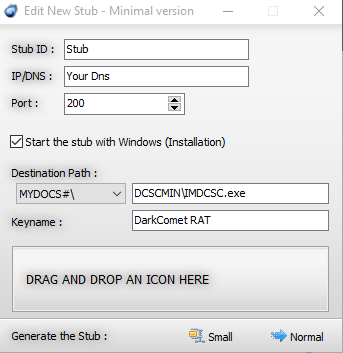 [Step 6]
We will now need to allow connections through the rat so head over to Socket/Net. Go to the grid then right click and press on "Add Port to listen" then you will get a pop up window then just put your port that you user. (200 is what i used then press listen) Your rat is now ready to be used, you have two choices spread the un-crypted stub that is high detections eg 25/30 antiviruses detect it or you can purchase a crypter and crypt it to make it so 0 antiviruses detect it (If you crypt do not scan on virustotal)



FreeDns: http://freedns.afraid.org/
NOTE: THIS IS FOR EDUCATIONAL PURPOSES I TAKE NO RESPONSIBILITY OF YOUR ACTIONS.
Habib O
Self proclaimed tech enthusiast looking to expand my personal portfolio. Click my profile to find out more. PS. If you give me something i will break it.